In need of a pick-me-up? Us too.
There's nothing like a funny film to provide some much-needed escapism. So we asked everyone at Prezzybox HQ for their go-to comedies - the films that never fail to put a smile on their face.
Popcorn at the ready!
Hot Fuzz
No luck catching them swans then?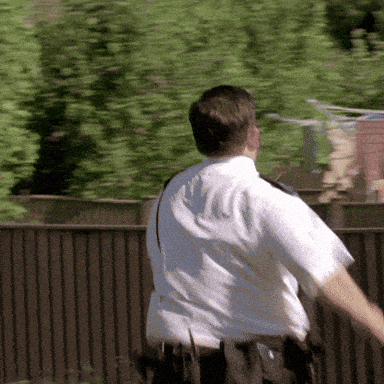 Hot Fuzz
Chosen by Hatty, Creative Designer and Photographer
This super fun twist on classic police action films has us howling every time. Nick Frost's character trying and failing to hop over a fence will never, ever not be funny.
---
Dumb and Dumber
So you're telling me there's a chance!
Dumb and Dumber
Chosen by Shelley, Corporate Account Manager
Shelley's favourite go-to comedy is Dumb and Dumber and we wholeheartedly agree. Despite being made 25 years ago (so it's older than a few of our staff members), Jim Carrey's comedy timing knows no generational bounds.
---
What We Do In The Shadows
Vampires don't do dishes.
What We Do In The Shadows
Chosen by Craig, Chief Technology Officer
The cult-film-turned-TV series is Craig's pick. The original film peeks into the lives of a bunch of vampires, as they navigate finding food (or, people), modern technology and ex-girlfriends. Strange, but amazing.
---
Alan Partridge - Alpha Papa
I've fired several rifles… at funfairs… and won prizes.
Alan Partridge - Alpha Papa
Chosen by Chloe, PR and Marketing Executive
If you can deal with cringeworthiness of Alan Partridge for a couple of hours, you're on to a winner with Alpha Papa. The film sees Alan's radio colleagues taken hostage by a disgruntled host, leaving The Partridge himself to save the day.
---
Bridesmaids
Help Me, I'm Poor.
Bridesmaids
Chosen by Phillipa, Buyer
Not that we need to justify the inclusion of one of the funniest films ever made - fact - but if there's any movie made to take your mind off of… things.... it's this one. Make sure you're ready to paaaartttaaayyy.
---
Weekend At Bernie's
What kind of a host invites you to his house for the weekend and dies on you?
Weekend At Bernie's
Chosen by Rich, Customer Service Advisor
Definitely the best movie about two guys trying to convince everyone their deceased boss is still live and kicking ever made, we think. It sounds like way too much hassle, but it does make for a funny film.
---
Safety Not Guaranteed
There's no sense in nonsense when the heat is hot.
Safety Not Guaranteed
Chosen by Tony, Supply Manager
A wonderful mix of comedy, romance and sci-fi, Safety Not Guaranteed is based on a 'real' classified ad requesting a partner to go back in time with the writer. It's won countless awards and was made with less than a million dollars.
---
Legally Blonde
I don't need backups. I'm going to Harvard.
Legally Blonde
Chosen by Sara, Social Media and Marketing Executive
This feel-good, stereotype-busting film sees Reese Witherspoon defying expectations to graduate from Harvard Law School. And it's worth watching just for the bend-and-snap, to be honest.
---
Superbad
When am I going to need to cook tiramisu? Am I going to be a chef?
Superbad
Chosen by Dani, Photographer
It's hard to believe this film is now 14 years old. It sees a spritely 17-year-old Jonah Hill (he was actually 24, but make-up works wonders) and his friends navigating the cops, house parties and, most importantly, girls. It's wild and wacky, and definitely not one to watch with the parents.
---
The Naked Gun
Nice Beaver
The Naked Gun
Chosen by Joe, Digital Marketing Executive
The ultimate spoof comedy, Naked Gun is Joe's top pick. Leslie Nielsen's one liners are pure genius. No matter how mature you think you are, 'Nice Beaver' will always make you howl.